What is Clinical Pilates?
Clinical Pilates has been adapted by healthcare professionals, such as Physiotherapists, from the work of Joseph Pilates to make the exercises more suitable for clients rehabilitating from injury or with movement dysfunctions. Clinical Pilates is a mind-body approach unique in that it allows you to experience movement therapy with a professional who is able to combine Pilates principles with their sound knowledge of anatomy, motor learning and control, rehabilitation, and injury prevention.
Clinical Pilates focuses on retraining movement patterns with improved core control, body awareness, and proper breathing. It is more important to focus on the quality of each posture/movement and the integration of the whole body; this is the focal point of Clinical Pilates.
Clinical Pilates pays particular attention to postural education which enables optimal movement in the body. A Physiotherapist will closely guide your technique to prevent any injury and develop a series of exercises tailored specifically to your movement needs and goals.
At our Physiotherapy & Pilates Clinic, Clinical Pilates is done by a trained Physiotherapist in a one-on-one guided session. Specialized equipment such as a reformer, tower, and pilates chair are utilized along with mat exercises. Often, clients will leave their Clinical Pilates sessions with home exercises, postural cues, habit retraining tips, and improved body awareness to support their Clinical Pilates treatments and create long lasting results.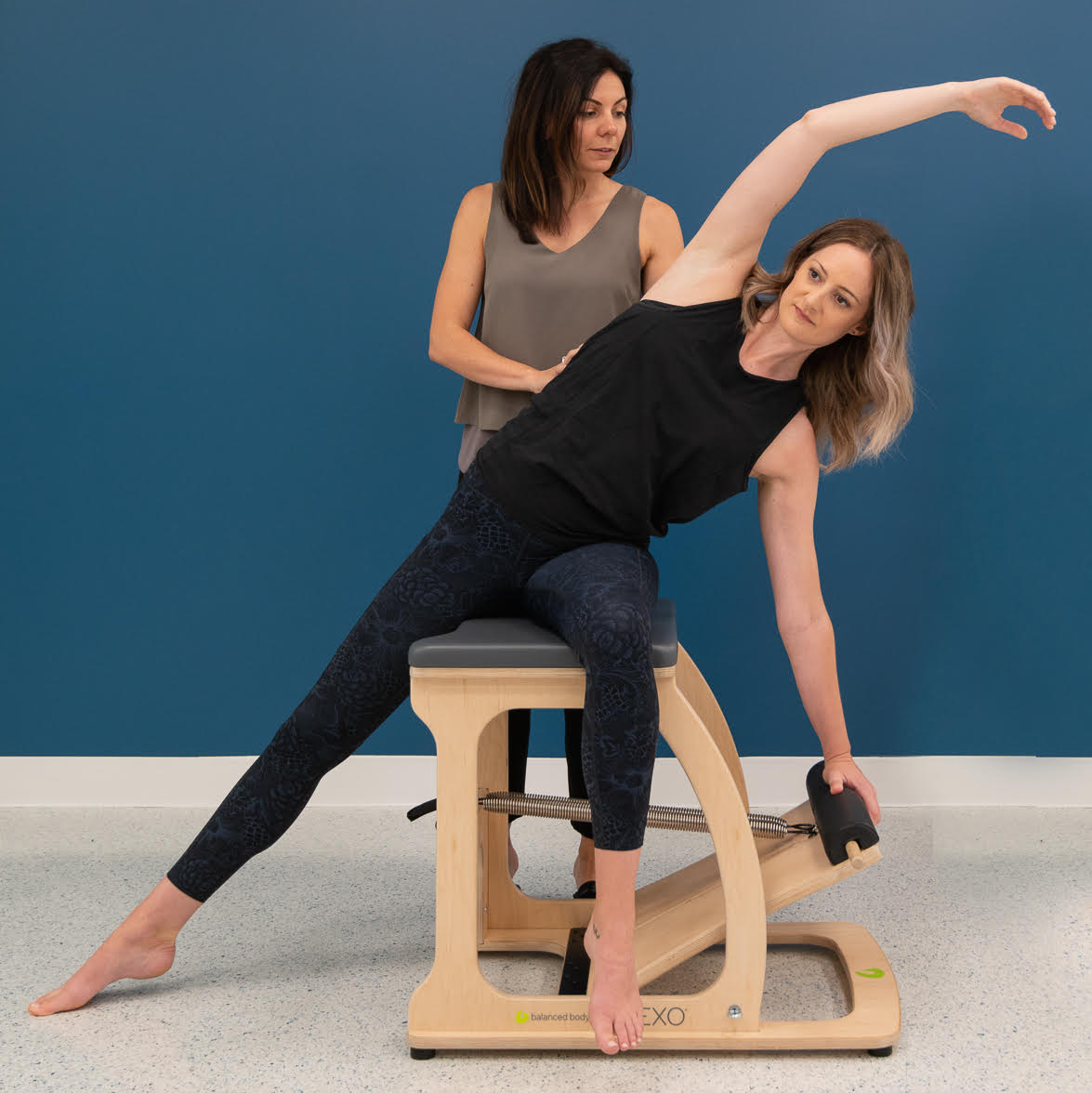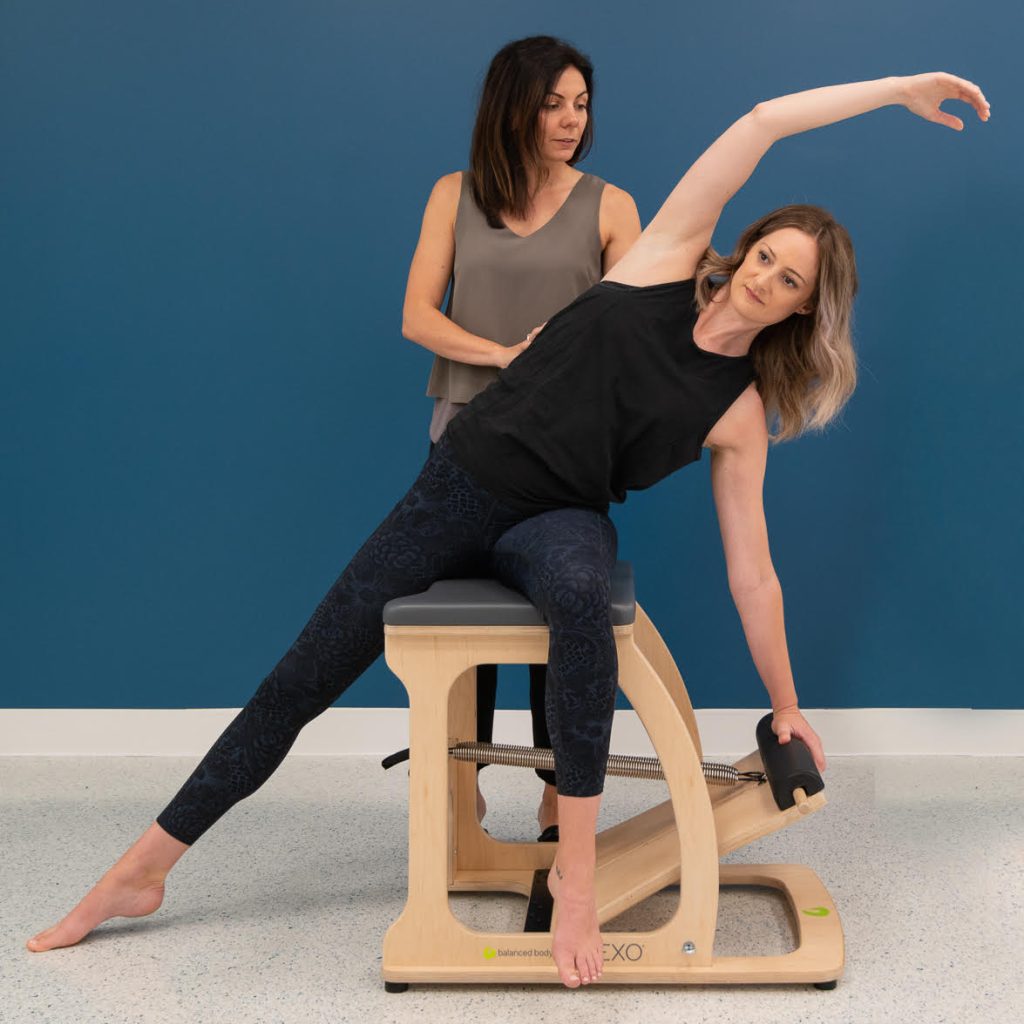 What is the Difference between Clinical Pilates and Fitness Pilates?
There are many distinguishing characteristics between the practice of Fitness Pilates and Clinical Pilates. Here are some of the ways in which these differences occur:
| | |
| --- | --- |
| Fitness Pilates | Clinical Pilates |
| Often taught in group settings | One to one care |
| Little to minimal hands on or manual treatment | Often includes hands on or manual therapy integration to support motor learning and limit barriers to movement |
| For any body | Designed to support people rehabilitating from injuries, chronic pain, or neurological conditions |
| No assessment required | Requires a clinical assessment by a certified healthcare practitioner |
| Administered by a Pilates Instructor | Administered by a registered rehabilitation practitioner, such as a Physiotherapist or Massage Therapist |
| Multiple individuals doing the same exercises | Personalized exercises taking into account the individual's unique injuries, physical needs, and prevention of re-injury |
| The person practicing it has fitness-related goals | The person practicing it has rehab-related goals |
Why would you add Clinical Pilates into your healthcare routine?
Clinical Pilates is an evidence-based practice integrating the sound knowledge of a healthcare professional with the foundational principles of Pilates. Together, this tool can be an effective way to help somebody heal from chronic injuries, get sport ready, improve mobility and posture, recover from surgery, and much more! There are many important benefits to Clinical Pilates of which can be explored more in detail here.
Clinical Pilates can help address any strength issues to allow you to reach your activity goals safely and effectively. Many professional athletes rely on this rehabilitation to help stay injury-free during their sport. It is also suitable to strengthen the knee, hip, shoulder, ankle, and lower back post-surgically.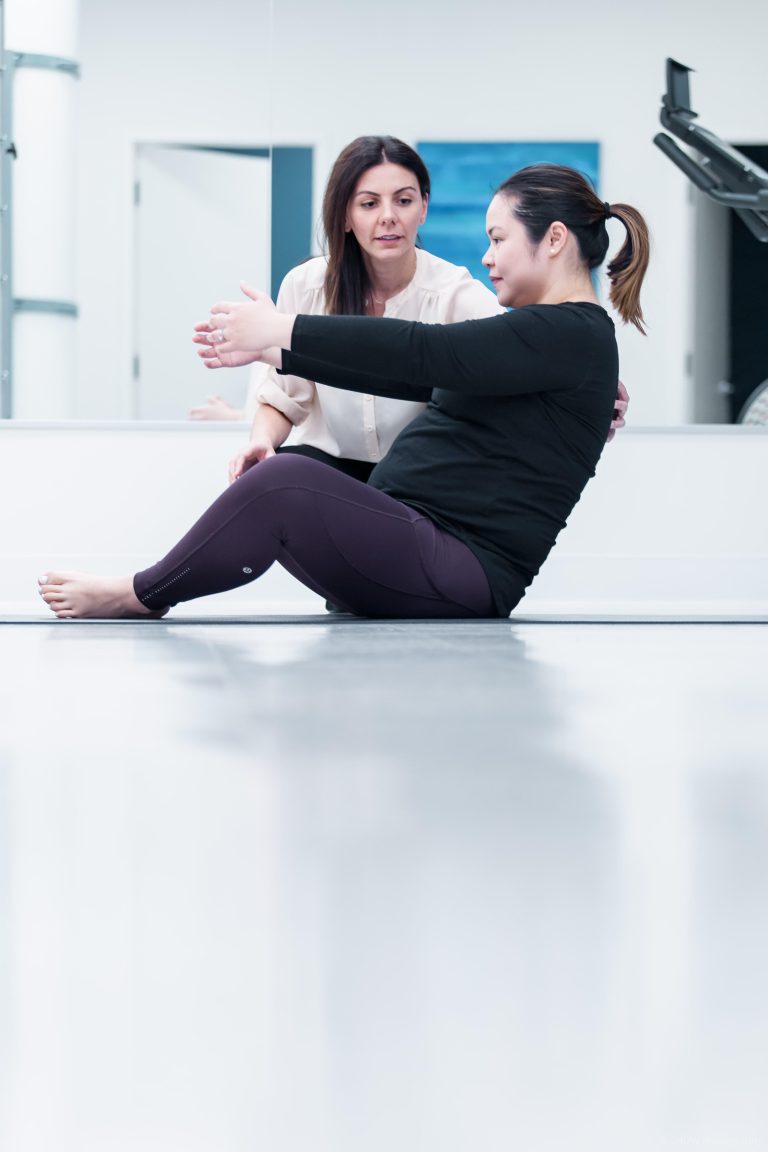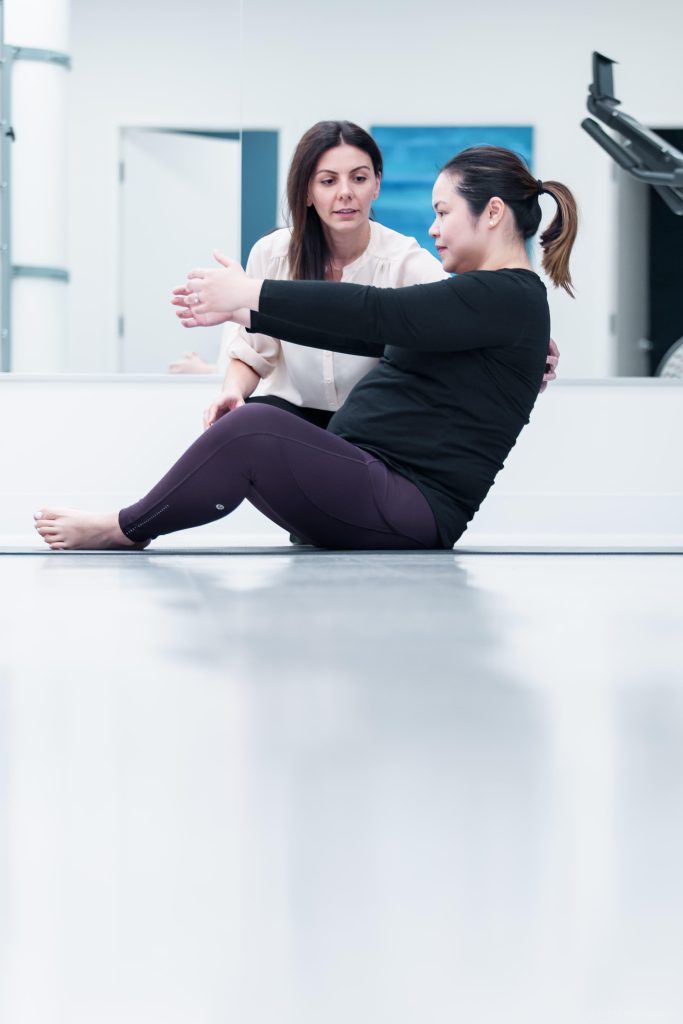 Many expecting and new moms require strengthening to support the many changes their bodies go through in preparation for birth and postpartum; Clinical Pilates is an excellent tool to support and stabilize the lower back and pelvis.
If you have postural problems, then Clinical Pilates is a great option that will help you develop an awareness of your body in addition to increasing your overall strength and flexibility.
Clinical Pilates as a Part of Your Collaborative Care
Clinical Pilates is an effective tool to sustain the work you are doing with your Registered Massage Therapist, Acupuncturist, Chiropractor, or Osteopath. When you release tissues and joints in the body, we often need to restabilize and teach those tissues how to work in that new line of tension. If not, you often feel like those treatments only help you temporarily. Clinical Pilates helps you to integrate that body work and teach your body how to find new pathways of movement, strength, stability, and mobility in order to improve your long-term function and optimize your movements for whatever you want to do!
Overall, if you have a persistent ache or pain that won't go away, have tried other modes of therapy without much success, or are struggling to reach your movement goals, Clinical Pilates might be right for you!

What to Expect in a Clinical Pilates session?
Clinical Pilates sessions are often with trained Physiotherapists who design programs specifically for your needs and movement goals. A 1:1 clinical assessment is necessary to find the driver or root cause of your concerns and ailments and devise a plan that supports where you want to be. From there, other Physiotherapy treatment modalities may be included with Pilates exercises to support your rehab goals.
The Clinical Assessment is Key
Like every Physiotherapy assessment, your first visit will start with a thorough history taking including past injuries, aggravating factors, overall health concerns, level of activity, functional limitations, and discuss your personalized rehabilitation goals. Then the Physiotherapist will perform an objective examination such as postural analysis, functional movement patterns, active/passive range of motion, mobility and strength testing, and neurological testing. It is imperative that the Physiotherapist look at your unique history, physiology, anatomy, stress, and load tolerance in order to create a treatment plan that is right for you.
Once the assessment is complete, that first visit or the follow-up second visit may include Clinical Pilates as part of the tools used in that treatment plan. There may also be an element of manual therapy, intramuscular stimulation (IMS), education, fascial release, and so on. However, if the client is deemed suitable and open to the addition of movement therapy as part of their treatment plan, Clinical Pilates is a great way to integrate safe and functional movement back into that client's body.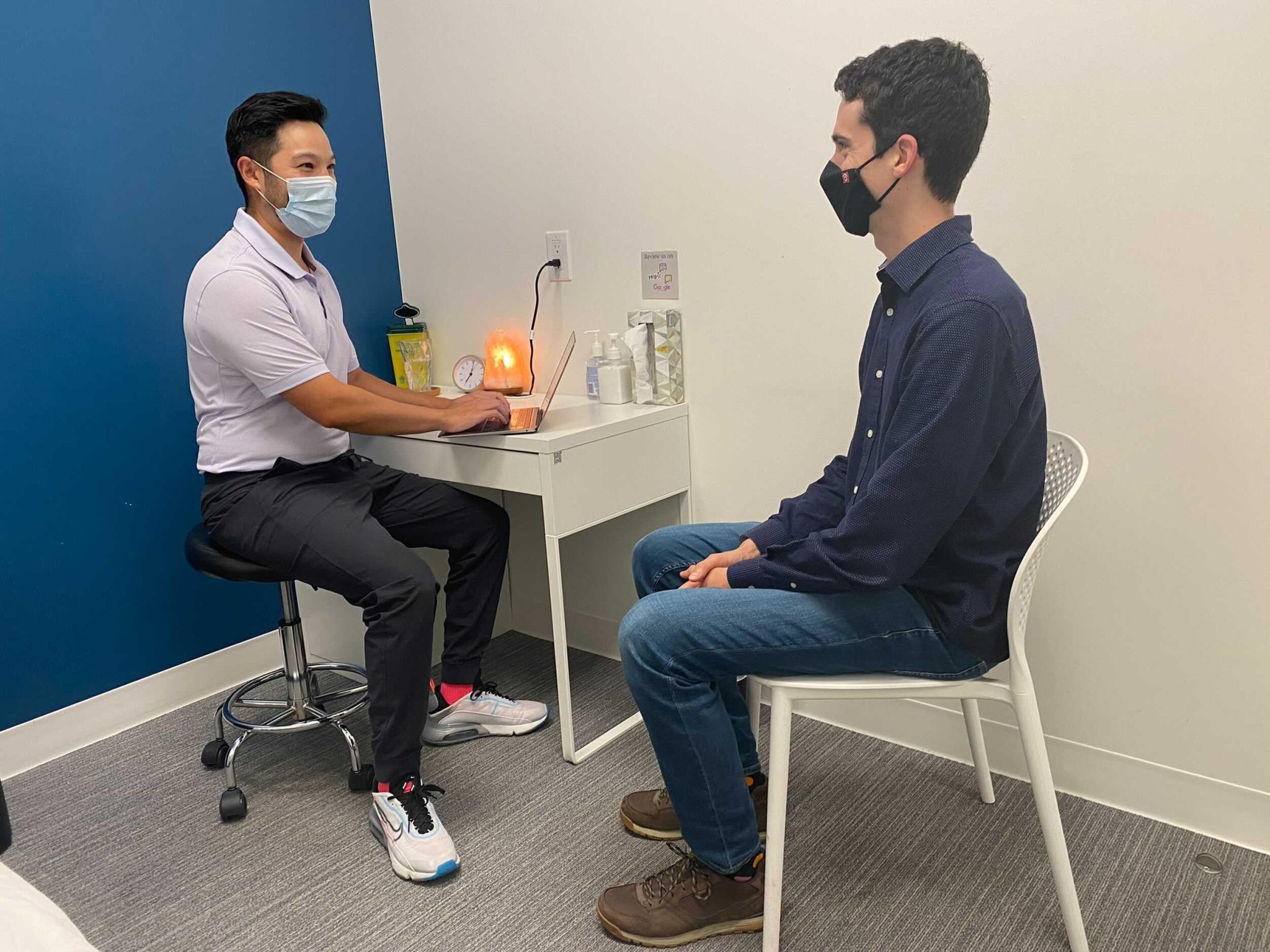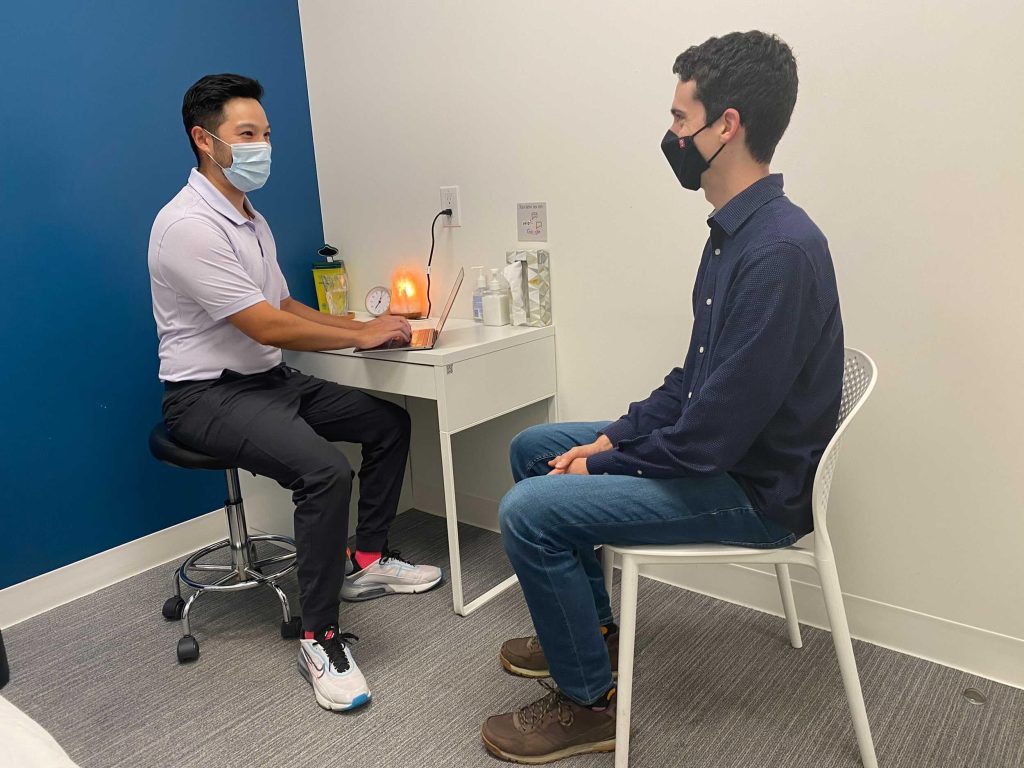 Movement is Medicine
When practicing Clinical Pilates with your trained Physiotherapist, your most optimal movement pattern will be explored with an emphasis on effective breathing, alignment, core, pelvic stability, balance, and control. They will take into account any joint restrictions, hypermobilities, muscle weaknesses, poor body awareness, rehab goals and so on in order to tailor the movements for you.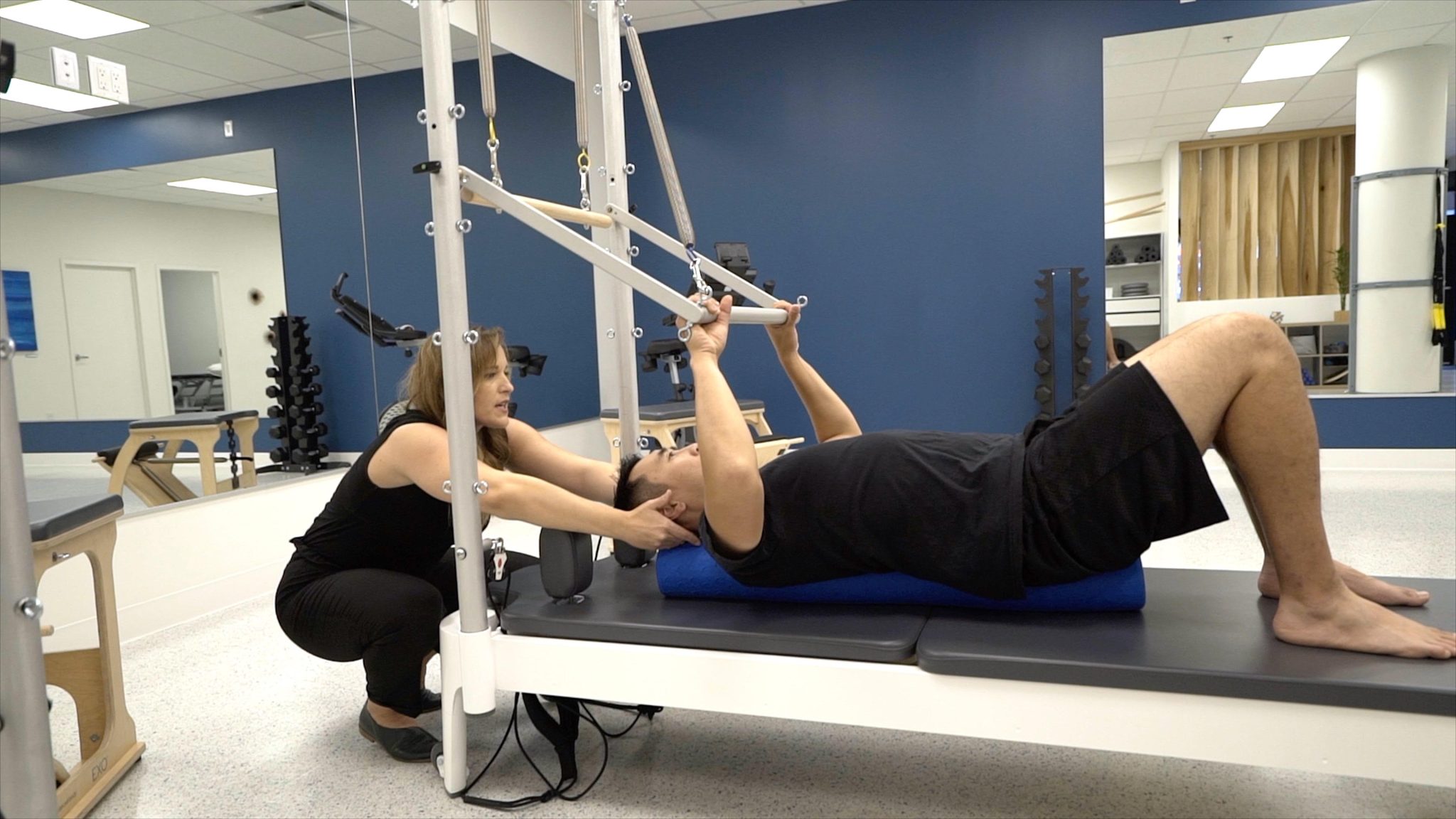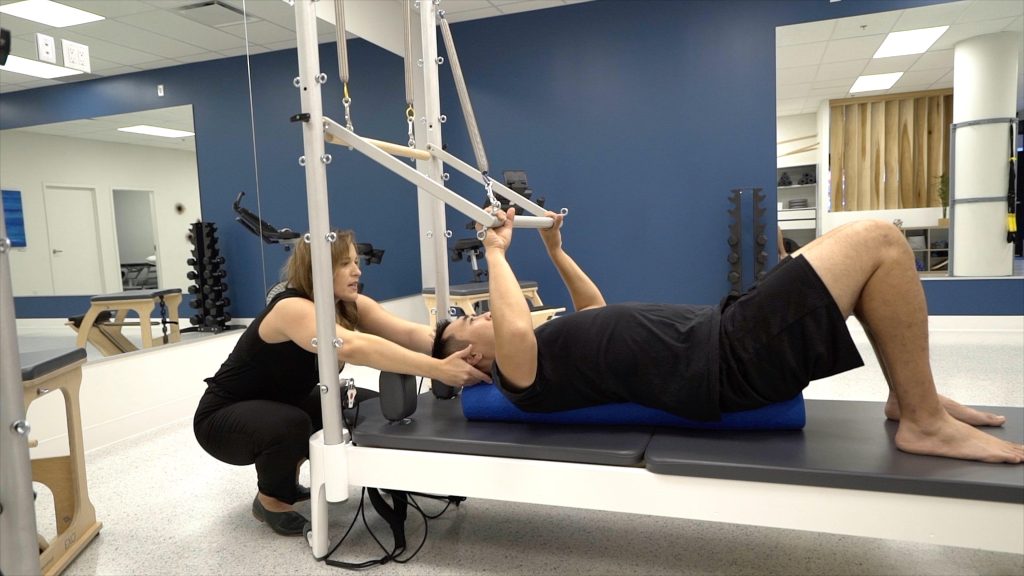 Finally, expect your Physiotherapist to integrate manual therapy and/or hands on tactile cues to help encourage optimal movement in your body. Assisting joint movement or tapping a muscle to support activation of it during the exercise is a research proven and highly effective tool to support motor learning and strength building.
How to Integrate Clinical Pilates in your Healthcare Journey
Firstly, it is important to check the qualifications of your healthcare provider. Look for a Registered Physiotherapist or Registered Massage Therapist that has taken an approved training course in Clinical Pilates (e.g. Calibrate Pilates instructor training, STOTT Rehab Pilates certification,, Balanced Body Pilates instructor training, etc.). The practice of Clinical Pilates is billed under the therapist's professional license and thus you may be eligible to use any of your extended health benefits for Physiotherapy or Massage Therapy.
Second, come prepared with your health records (such as MRI reports, X-rays, or notes/referrals from other healthcare practitioners). Just like working with any healthcare practitioner, it is important to gain insight into your overall health, collaborate with your healthcare team, and ensure that your needs are being met.
Finally, choose a healthcare practitioner that you trust, is reputable, and will make you feel heard. Your health matters and you deserve the best. Look for great reviews or ask a friend about their experience. There are many choices out there for your health and wellness but none as important as the one that feels right for you.
This article was created by Reformotiv Physio + Pilates. We are a collaborative care clinic in Vancouver, BC, that is well known for our advanced training in Clinical Pilates, 5-star client experience, and manual therapy skills. We see clients from all over the Lower Mainland and Greater Vancouver area and support them in reaching their highest potential. We have a spacious Pilates Studio and private treatment rooms to accommodate one-on-one sessions, offering an effective way to integrate this research-proven method of treatment into traditional Physiotherapy work. We offer direct billing to many insurance providers and ICBC. Book online or call one of our Client Service Coordinators to find the best Physio to match your needs: 604-684-5826.